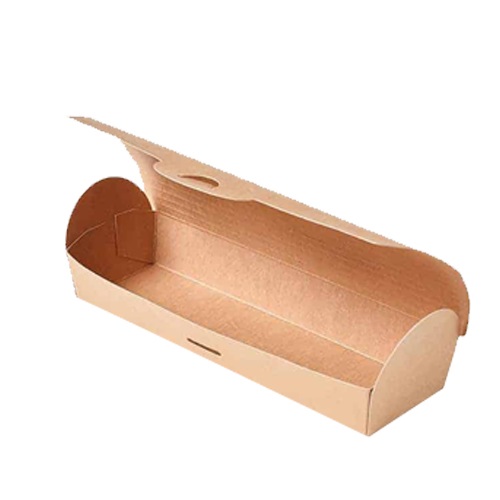 Burger box packaging is now a necessity to promote and market your burgers, as well as other fast food items. It is dependent on you if you choose to employ it to deflect the spotlight on your products and make them an integral component of the customer experience. Of course, you'd prefer to utilize it in a strategic manner to draw the attention of your customers and convince them of the quality of your product. Additionally, you must keep the hamburger box costs in check since often they are more expensive than the cost of the item itself. This is why it is crucial for a fast-food company to reduce the waste of packaging because it doesn't only add to the cost but also impact the environmental stability.
The choice of Material Affects the Burger Box Price:
The most obvious is the choice of material for your hamburger packaging directly impacts your overall packaging expenditure. When you are deciding on the style of these packaging options, you are able to select a range of different materials. Most of the time, we notice that a majority of manufacturers use plastic for their packaging. A few of them prefer aluminum because of its unique qualities. However, these materials can increase the packaging costs to the point where any business can't manage them.
The general rule is to choose raw materials that are sourced in natural or organic ways. For instance, cardboard can be an excellent choice that is very cost-effective. Apart from its affordability, the material can also provide a superior durability to the boxes because of their superior quality and durability. Additionally, selecting an Kraft bux or stock board could be a good option. They are less demanding on your budget, and are easily available in the market. A further benefit is that they are extremely flexible, which allows you to manage the packaging cost effectively.
Dimensions Overall Affect Burger Box Costs:
The overall dimensions you select or choose to get from the packaging design will significantly impact the final packaging price. Every retail item has certain requirements and demands the box style that is in line with these requirements. Designs that rely on "one size fits all" are not effective. We can think about this through an example from everyday retail. Imagine that you are selling fast food and burgers. The boxes you chose are generally smaller in size, while the containers you chose are bigger. The boxes could expose your products to certain damage, but they will cost you a substantial amount of dollars. You will not have to pay more for packaging things by deciding on the dimensions in accordance with the requirements of the product. Therefore, take measurements of the products first before selecting what will be the final packaging design.
Its Fragility
The degree of delicacy of an item sold at retail can significantly influence the price of the packaging design. The product that is more fragile or a higher risk of damage needs extra protective packaging. By them the burger packaging isn't as secure. They need to be strengthened or reinforced with different custom options to offer total security. For instance, you'll need to increase their stacking strength by incorporating custom inserts. Additionally, it is helpful by modifying them with protection PP and PE films to withstand the impacts of humidity and moisture. These additional features in the packaging design have costs that increase cost of the package substantially. If the box is not as fragile, i.e., the product isn't as fragile, you could opt for a moderately secure box style.
Printing and Finishing
Fast-food brands can't make rapid sales of its burgers if it doesn't advertise the food item in an extensive manner. The design of packaging is the most effective marketing tool that encourages the shopper through a positive first impression. To maximize the value of hamburger packaging in marketing for products, you must printing them with particular specifications. Also, you must finish the details in a neat and tidy manner to make them appear to pop out of the box style and draw attention to the customers. The inclusion of finishing effects and printing on printed hamburger boxes costs money. The more exclusive you can get in the selection of finishing and printing the higher price you will have to cover. The best way to keep your cost of printing and finishing under control is to opt for a minimal design style.
Add-ons to HTML0:
When trying to cut down on cost of packaging many product makers tend to overlook the secondary packaging cost. While these costs are not visible but they are substantial enough to pay attention to. For instance, boxes with no protection features require improvement using the use of void fills. Additionally, they can be paired with tissue paper that is branded and custom sleeves to create top-quality user experiences when unboxing. If you wish to manage the costs of these boxes, it's essential to create an outline of all the necessary accessories to your box style. Do away with all the unnecessary modifications. If you are unable to decide what is necessary and what's not, search for the best suppliers of Burger boxes close to my location. These companies have an experienced team of experts who can guide the customers through the box designing process.
Packaging Order Volumes:
The costs of wholesale and wholesale purchases vary significantly within the packaging world. The total amount of burgers that you purchase can greatly impact the cost you pay. In general, for retail purchases the cost of one box is higher than when you purchase it wholesale. Make a smart choice and choose wholesale purchases so that you pay lower packaging costs.
Different factors affect the typical packaging box cost. It is therefore essential to review the packaging strategy and decrease your packaging expenditure. Only then will you be able to make a profit margin. Consider the effects of various cost-determining factors and find efficient methods to reduce these. If you're worried or don't have the necessary expertise, it's better to speak with you packaging provider for professional assistance and guidance. This can help you reach your targets for cost reductions in the most efficient way.